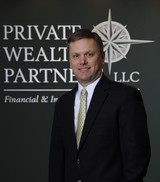 Mark J.
Murphy
Managing Partner
With over a decade of financial industry experience, Mr. Murphy is a CERTIFIED FINANCIAL PLANNER™ professional and Managing Partner with Private Wealth Partners, LLC.  He began his career with Legg Mason Wood Walker in their Private Client Group.  In 2006 he joined Smith Barney as a result of their merger with Legg Mason before joining Private Wealth Partners, LLC in 2007.
Mark holds a bachelor's degree in finance from Loyola College. While there, he served as Captain of their nationally-ranked lacrosse team and received the scholar-athlete and leadership awards for the program.
In addition to his work at Private Wealth Partners, LLC, Mark has previously served as president of the St. Mary's Alumni Association Board of Directors.  Currently, he serves as president of the St. Mary's Royal Blue Club Board of Directors and on the Board of Directors for Chesapeake Baysavers, Inc.  He is also a volunteer coach for both the St. Mary's Annapolis Lacrosse and Field Hockey Association and the Annapolis Youth Lacrosse Association.  He and his wife, Gail, live in Annapolis with their three children, Benjamin, Lily and Drew.
Why did you choose to become an investment professional?
Math and numbers have been my greatest academic strengths going back to my earliest school days.  As a finance major in college, I was able to continue to build on that foundation.  Becoming a financial advisor, for me, was the perfect blend of utilizing those skills in an environment where I could develop close personal relationships with the people I work with every day.   I believe it has proven to be the perfect professional path for my skill sets and deeply rewarding at the same time.

What do you look forward to each day?
A friend of mine once shared a quote with me, "you only get one shot at today."  That is something that for me really resonates.  I look forward each day to maximizing whatever opportunity lies ahead whether it is with family, friends, at work or any other path the day takes me down.

What are you most proud of?
While I am extremely proud of what we have built at Private Wealth Partners, my family is far and away my greatest source of pride.  To have a beautiful wife and three wonderful kids to come home to every day provides a happiness and contentment that I hope everyone gets to experience in their own way.

How do you spend your free time?
I love being outside as much as possible when I am out of the office.  Playing golf, fishing and spending time on the water with my family are at the top of the list of activities.  I also get great joy out of coaching sports for my kids.

What's your favorite book?
My favorite book is Unbroken, the story of Louis Zamperini.  What he went through is an overwhelming lesson in the triumph of the human spirit.  Reading his story is a healthy dose of perspective that the things that many of us complain about on a day to day basis are really quite trivial.  With perseverance and fortitude, the human mind and body can get us through things we never could have imagined.